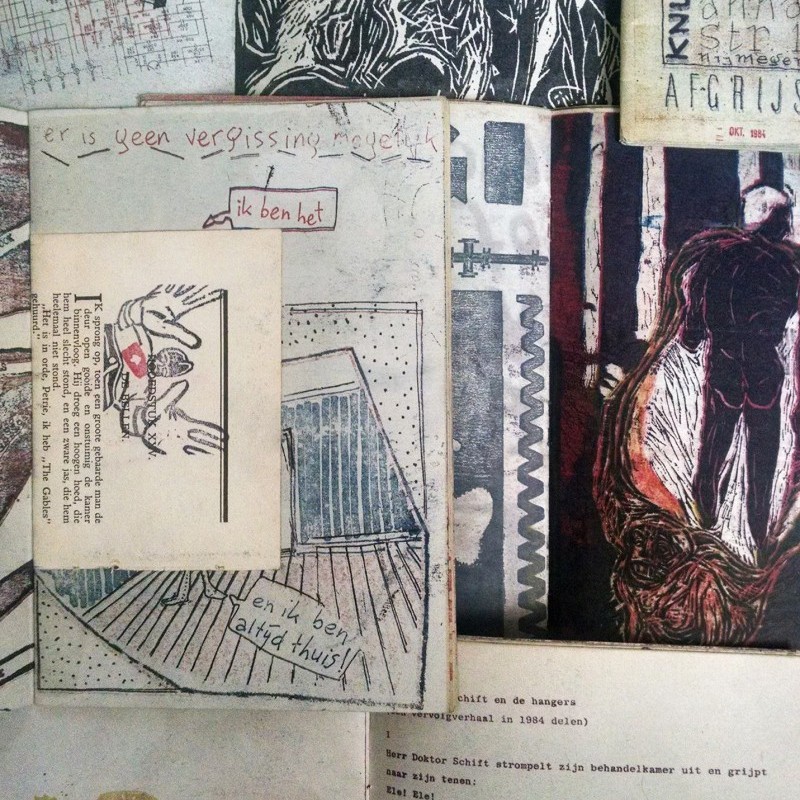 [Knust: Jan Dirk de Wilde, Alfred Boland, and Ubu Lemereis, eds.]. Afgrijs. No. 1 (March 1984) through No. 7 [1986/1987?] (all published). Nijmegen, Netherlands: [Knust Press], 1984-[1987?]. 8vo (21 x 14.8 cm), most approx. 28-34 pp., with orig. stapled color wrpps., near fine.
The experimental art serial Afgrijs was one of the first publications by the Dutch avant-garde collective Knust, a loose group of anarchist artists who met in the early 1980s in a Nijmegen squat. The Knust Press emerged as a leader in counterculture graphic arts during the heyday of the Dutch squatters movement. Although Knust members were inspired by underground comics including Zap, Raw, and Hari Kiri, Afgrijs's vivid, process-oriented issues resemble artist books more than comix or fanzines. They are primarily visual, influenced by neo-expressionism, graffiti, and concrete poetry, with supplemental materials bound, tipped, and laid in.
According to founder Jan Dirk de Wilde, the group's printing experiments began when they were given a 1930s Gestetner stencil machine. Tests with multiple inks were limited before they encountered a Roneograph with exchangeable color drums. The Roneo's analog duplicator allowed Knust artists to draw directly with a stylus onto the stencil blanks. It was good for "abstract, wild, uncontrolled multi-color printing", whose thick, oily inks gave the publications a "physicality" akin to painting.
Together, the Afgrijs volumes are a complex assemblage of styles, colors, and techniques, fabricated just before the first digital stencil machines (Risographs) became commercially available and automated much of the labor for such fully realized artist publications. Knust and its sister organization, Extrapool, still exist thirty years later and continue to be leaders in experimental publishing, graphic design, and artist books.
Complete runs of Afgrijs, with all addenda, are extremely scarce. Like many anarchist serials, there were no colophons, entries were attributed to false names, and edition numbers and dating are often lacking or deliberately confused. OCLC finds two institutional holdings in North America: at MoMA [incomplete] and Yale [complete?]. The Yale catalogue calls for no. 5 to be issued in a cassette tape case. Existing members of Knust controvert this description, calling for no. 5 to be a single booklet as in the present copy (and for the cassette tape to be catalogued as a stand-alone edition, called Cassette voor Doven [Tape for the Deaf]).
SOLD