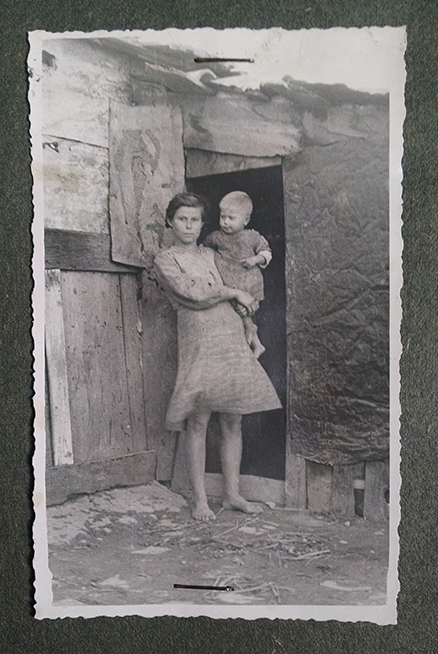 [Italy – Socialism – Documentary Photography].
Photograph Album of "Shanghai" Slum, Crotone, 1946 [Inscribed to Giuseppe Romita]
Oblong 4to. [19] leaves, 17 with photographs and handwritten captions recto, most with one photo per page, a few with multiple images or "panoramas" of overlapping prints; photos 3.25 x 5 in.; album boards covered in decorative paper and bound with ribbon; minor rubbing. Ink inscription inside front board: "lavoratori di Crotone al compagno Romita perché guardando i ricordi e prevede Crotone 31-12-1946".
The city of Crotone is in Calabria, an agrarian region dominated through the 1930s by a feudal land system on which landless laborers worked for giant estates. Crotone experienced rapid population growth during the 20s and 30s as unemployed and dispossessed tenants moved to the city hoping to acquire industrial jobs in newly built factories. When the ruling class prohibited these migrants and their families from living within the city, a shantytown (baraccopoli) began to arise on its margins. The war exacerbated Calabrian poverty and by 1946 the slum (now nicknamed "Shanghai") was a place of complete desperation and brutal living conditions. Peasants fleeing failed land reforms were encamped with no running water, hospitals, or schools.
This album draws attention to the humanitarian crisis in Crotone, and appears to have been presented by workers in the city to Giuseppe Romita, Minister of the Interior (and later Minister of Public Works) in the first postwar Italian government. Romita had been a political prisoner and leader of the socialist underground during the Mussolini years. He was a significant figure in the postwar period and is best remembered as the founder of the Italian Socialist Party (PSU) and as a guardian of the people's vote during the 1946 referendum that ended the monarchy and created the Republic of Italy.
Taken as a whole, the album creates an immediate and visceral sense of the tragedy in Crotone. The realism of the photography (reminiscent of American projects like "Let us now praise famous men") is heightened by the stapled pages and handwritten captions—improvisational solutions that echo the makeshift architecture of the slum itself.
Unfortunately, the provisional, temporary structure of the slum lasted another two decades. Pier Paolo Pasolini wrote about its dangers and privations in his travel diary La lunga strada di sabbia (1959). He returned to the area as a primitive biblical-era set for his film The Gospel According to Matthew.
SOLD