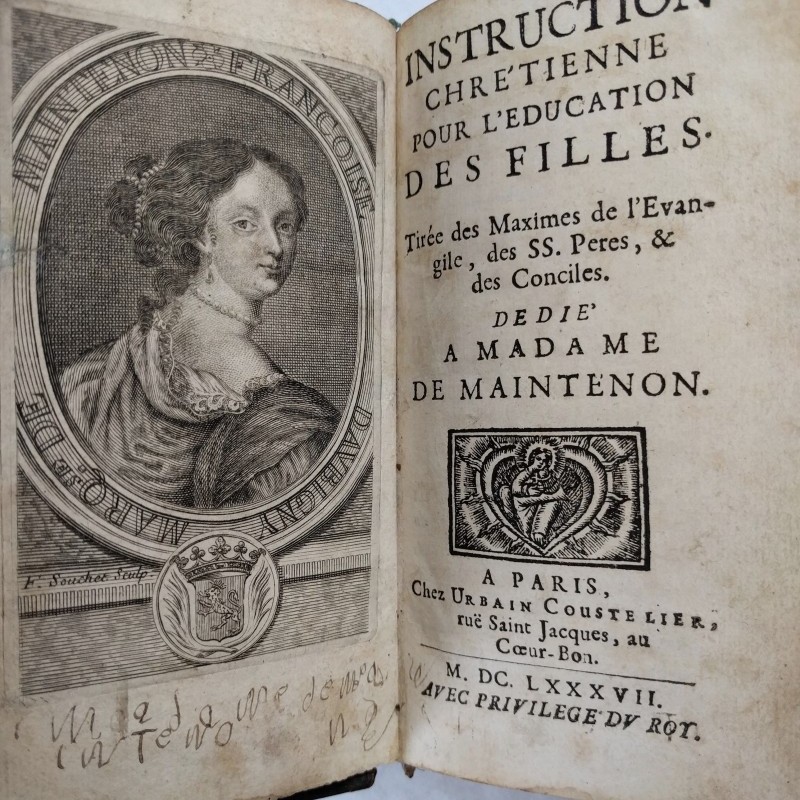 ​(Maintenon, Francoise d'Aubigné, Marquise de.) D. R., Abbé. Instruction chrétienne pour l'éducation des filles, tirée des maximes de l'Evangile, des SS. Pères et des conciles. Dédié à Madame de Maintenon. Paris: Urbain Coustelier, 1687.
12mo, [26], 429, [6] pp.; engraved frontispiece, with engraved vignette and numerous head- and tail-pieces and initials; in contemporary calf, spine with raised bands, gilt stamped panels, worn and chipped at ends, corners, and front hinge, joints weakened but holding, interior good with scattered darkening, one brief, marginal worm hole, small repair to frontispiece. Contemporary ownership inscriptions(?) on front pastedown and ff, possibly 17th- or 18th-century; child-like ink lettering of Madame de Maintenon's name, also possibly 17th- or 18th-cent, beneath frontispiece portrait.
Françoise d'Aubigné (1635-1719), Marquise de Maintenon, has been an object of popular fascination for three centuries. She was Louis XIV's second wife and governess to his illegitimate children (later legitimized). The couple married secretly in late 1683 or early 1684, following the death of Queen Marie-Thérèse. Maintenon moved into the royal apartments at Versailles and lived there until Louis XIV's death. Although her legacy is controversial, the Marquise was a skilled educator and used her position to found the first royal school for girls at Saint-Cyr. It opened in the newly built Maison Royal de Saint-Louis in 1686.
This treatise was dedicated to her just months later; a significant moment since it closely coincided with Louis XIV's Edict of Fontainbleau, rescinding religious freedoms for the Protestant Huguenots, and for which the Marquise was publicly blamed (and mocked across Northern Europe). Her religious beliefs were a topic of scandalous speculation, since her father had been persecuted for Protestant heresies, but this book and her work at Saint-Cyr are evidence for her pragmatism. Her connection of the Christian education of girls to the king's anti-Protestant campaign ensured the success of the school for a generation. The author's arguments also reflect a shift in France away from secular girls schools toward religious education.
The present portrait of Maintenon presents another mystery, since there are no verified images of the Marquise as a young woman. It is likely that this is one of the earliest copies of a fictive engraving published by Pierre Giffart near the time of her marriage to the king. (See Henri Gelin, "Etude Iconographique of Madame Maintenon," in Mémoires: Notes et Documents (Société historique et scientifique des Deux –Sèvres, 1907: 115-240.)
Institutionally scarce, OCLC locates two copies in North America: Northwestern and Toronto.
$950