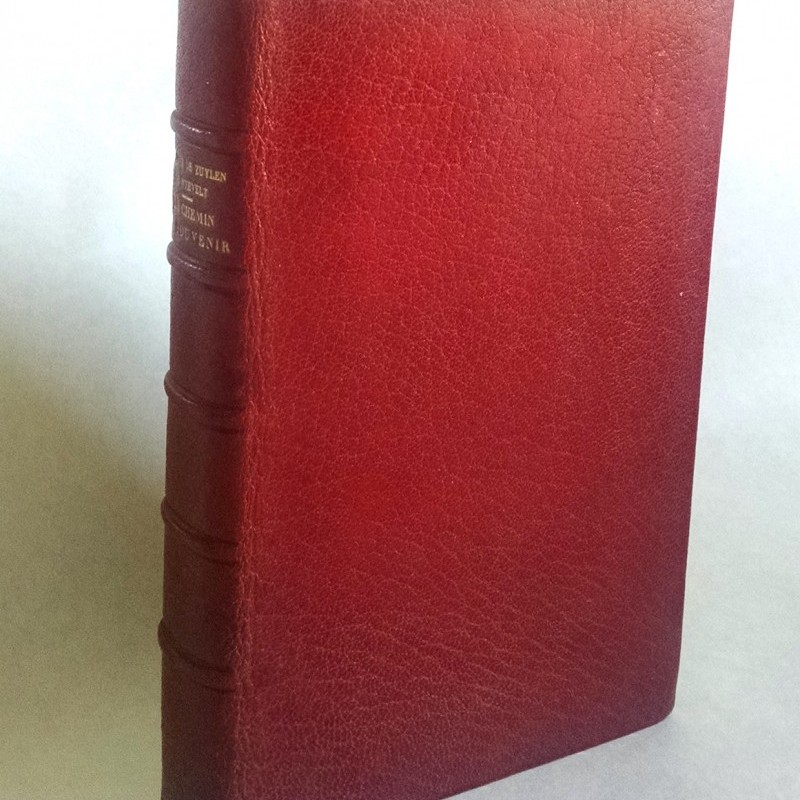 Zuylen de Nyevelt [de Haar née de Rothschild], Hélène de [and Renée Vivien?]. Le Chemin du Souvenir. Paris: Felix Juven, 1907.
First edition. 18.8 x 12.2 cm, 287 pp.; text block uniformly toned, orig. wrapper present; bound in red morocco by [Louis-Lazare] Creuzevault, spine with five raised bands and gilt title, gilt-tooled board edges and turn-ins, red silk doublures and free endpapers, marbled flyleaves, t.e.g.; corners bumped, minor wear to silk endpapers and lower board edges.
The Baroness Hélène de Zuylen de Nyevelt (1863-1947) was heir to the French Rothschild banking fortune before being disowned for marrying a Roman Catholic. She was a lesbian and auto-racing pioneer (the first woman to race in a motor car) who had affairs with women of Parisian high society and the bohème. For five years she had a relationship with the Symbolist poet Renée Vivien, a prominent figure in Parisian Belle Époque literary circles who made a notorious appearance in Colette's Le Pur et l'impur.
Together, Zuylen de Nyevelt and Vivien published a number of plays, poems, and stories (most pseudonymously). Scholars have not definitively attributed all of their collaborations, but there is evidence that Le Chemin du Souvenir was probably written in part by Vivien. The work was published shortly before the women's dramatic split in 1907, an event that led to Vivien's mental breakdown and death.
Le Chemin is a melodrama with expressive Symbolist language, opposing material wealth with artistic and personal freedom. There are two star-crossed lovers and an ancestral home that the heroine, Viola, hopes to return to its former glory. (This may have been inspired by the Baroness's life: she famously used Rothschild money to restore her husband's 14th-century castle.) The novel covers sculpture, Wagner, and hermaphroditism with equal eroticism.
Coeval copies of Zuylen de Nyevelt's work are uncommon; this particular novel is recorded only at the BNF. Vivien bibliographies seem to be confused about its genre (sometimes listed as a play) and its authorship, which has remained uncertain during a period of reappraisal of Belle Époque lesbian literature.
SOLD