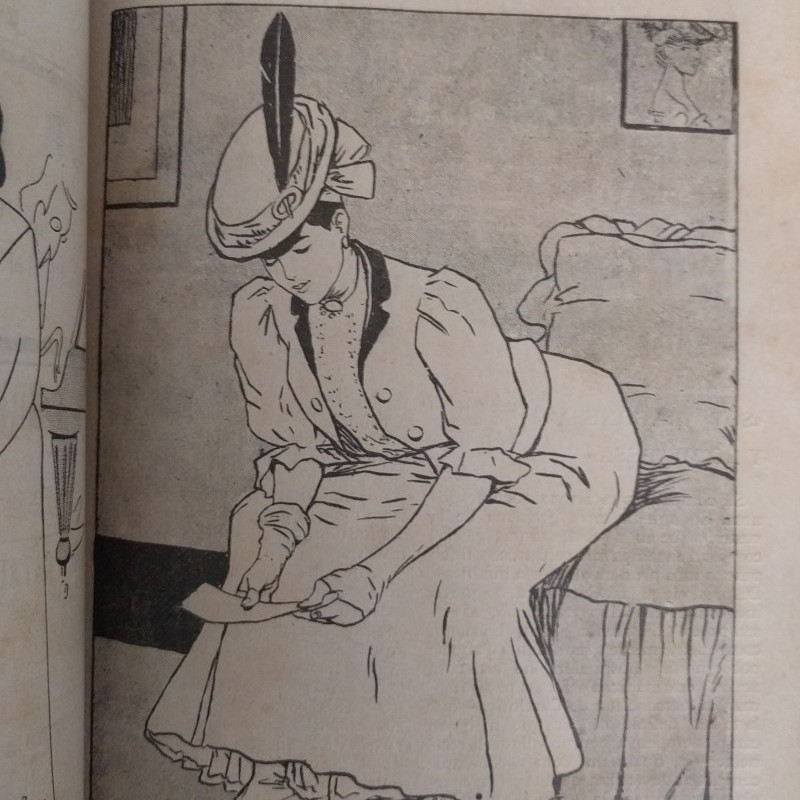 Or y Grana: Setmanari autonomista pera las donas, propulsor d'una Lliga Patriótica de Damas. Year I, No. 1 (October 6, 1906) through Year II, No. 21 (Feb 28, 1907) (all published). Barcelona: N.p., 1906-1907.4to, complete run of 21 issues, most 16 pp.; profusely illus. in b/w, no. 13 printed in three colors, newsprint toned, scattered small closed tears to edges, else very good; issues bound in one vol., later half-calf, spine with gilt title and tooling, lightly rubbed.
The women's weekly Or y Grana arrived in Barcelona following the great nineteenth-century revival of Catalan literature and art known as La Renaixença. It was written and edited by women, with political essays, poetry and fiction, reviews, and illustrations by leading graphic artists and caricaturists. The bold endeavor, often identified as the first "feminist" Catalan publication, was tempered by relatively conservative, bourgeois principles. Defined by nationalism and social Catholicism, the magazine defended the rights of working women and the poor, advocated for women's education and better conditions for unmarried women and widows, while conceding the political subordination of women to men.
Or y Grana's leadership included a number of important writers and proto-feminists: Dolors Monserdá de Maciá (journalist, novelist, and the first woman to preside over the preeminent literary contest, the Jocs Floral); Carme Karr (pacifist and suffragette); Maria Doménech (poet and author); and Josepha Dachs de Prat de la Riba (wife of the radical Catalonian nationalist Enric Prat de la Riba). Although Ora y Grana was short-lived, within weeks of its closure Karr began editing its long-running successor, Feminal, a literary magazine that more directly supported women's rights.
Stylistically, the magazine captures the turn from Art Nouveau and Modernisme to the simpler lines and typography of Noucentisme. Although it was not a satirical publication, it addressed the battle of the sexes with abundant humor and caricature, including cartoons and illustrations by the most important caricaturists of the period: Apa; Bagaria; Joan Junceda; Ismael Smith, and the great Ricard Opisso, among others.
This landmark of Catalan women's literature and early feminism is surprisingly scarce. OCLC locates no physical holdings in North America and only one complete run worldwide.
SOLD