Invitation to the Diner Annuel du Cercle des Gourmettes
1938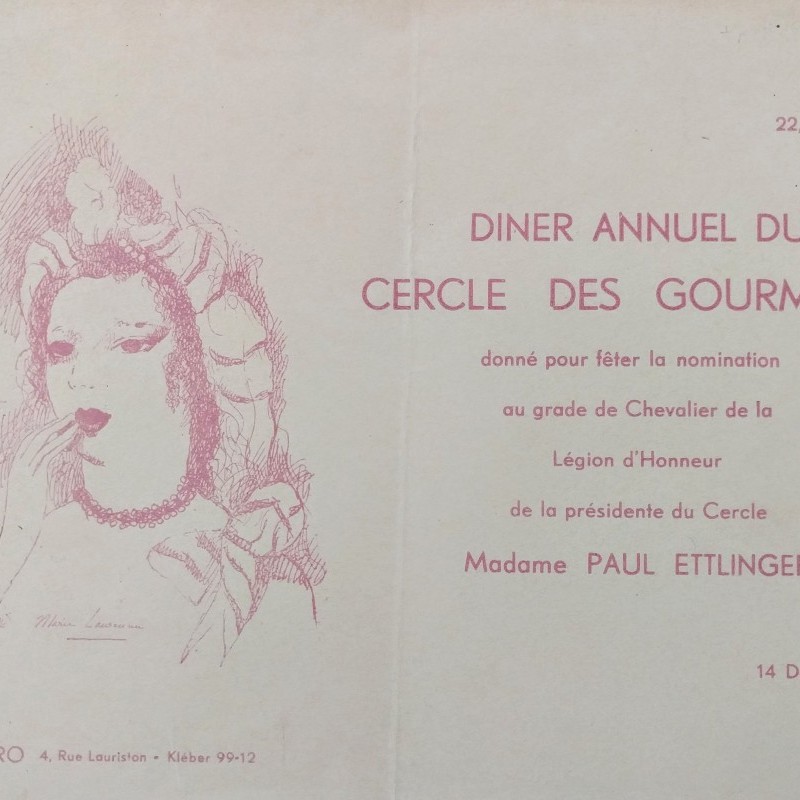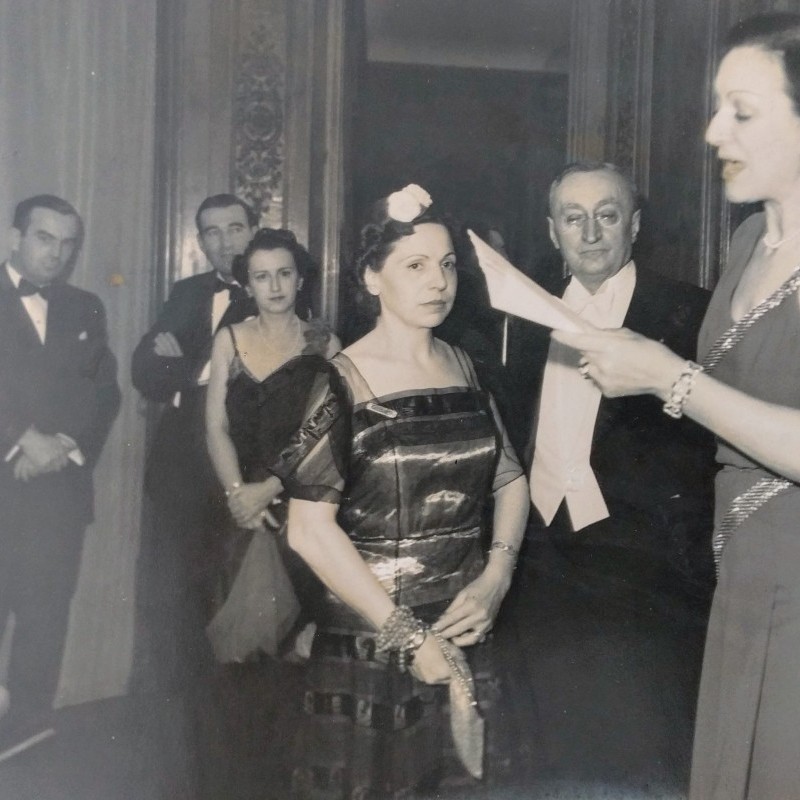 Cercle des Gourmettes. Invitation to the Diner Annuel du Cercle des Gourmettes, 1938. [Paris]. Together with a photograph presumed to be of the event and an etched New Year greeting card from Ethel Ettlinger. Card: 9-1/9 x 6-5/8 in., illus. after Marie Laurencin; photo: 6 x 7-7/8 in.; etching: 9-1/4 x 7 in.; card with orig. center crease, photo edgeworn, etching toned and lightly foxed with creased corner, else very good.
Invitation to a dinner celebrating Madame Paul (Ethel) Ettlinger*: American expat, president and founder of the French women's gourmet club Le Cercle des Gourmettes, begun in 1929 as a protest to the all-male Club des Cent. Existing documentation of Les Gourmettes' early years is sparse, despite being a group that famously included Simone Beck and Julia Child. Child later cited these events as "the real beginning of French gastronomical life for me" (Shapiro, 43). In Bob Spitz's 2012 biography, he writes that Beck, Child, and Louisette Bertholle considered naming their cooking school "L'Ecole des Gourmettes," and that Child made a final visit to Mrs. Ettlinger on her last day in Paris in 1953, when the Childs moved to Marseilles. Ettlinger was nominated for the Chevalier de la Légion d'Honneur.
The etching, presumably made for the Ettlingers, observes in rhyme the high value of a woman gourmand and depicts a feast in which women are served by men. This is likely a reference to an early Gourmettes château dinner, ca. 1931, whose costumes and menu were influenced by spectacular Louis XIV-era events and included live entremets by Marie Kummer and modern dancer Colette Andris, who scandalized society during this period with nude performances.
*Ethel Ettlinger is referred to in certain sources as Paulette, including by Simone Beck. Thanks to Don Lindgren for suggesting this may have been an affectionate nickname, related to the ironic spelling of Gourmette.
Ref. "Nossa alimentação: A Festa des Gourmettes," Revista da Semana No. 42 (Outubro 1931); and Laura Shapiro, Julia Child (New York: Penguin, 2007): 43.
SOLD