EXPERIENCES IN ALASKA: As Told by the Cook and the Teacher
Risedorph, Caroline Wilhelmina and Lillian Elizabeth., 1906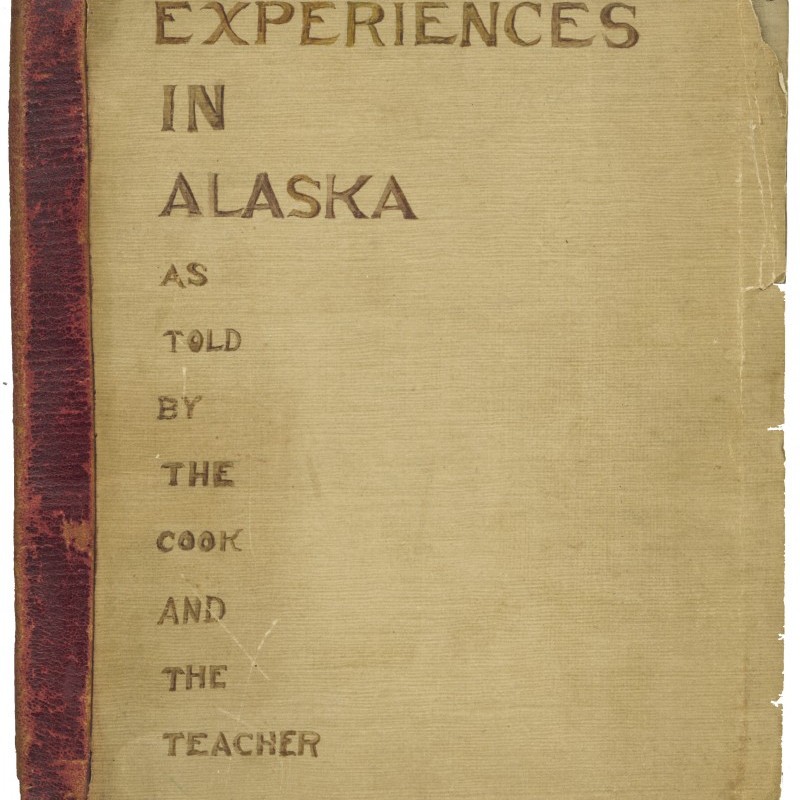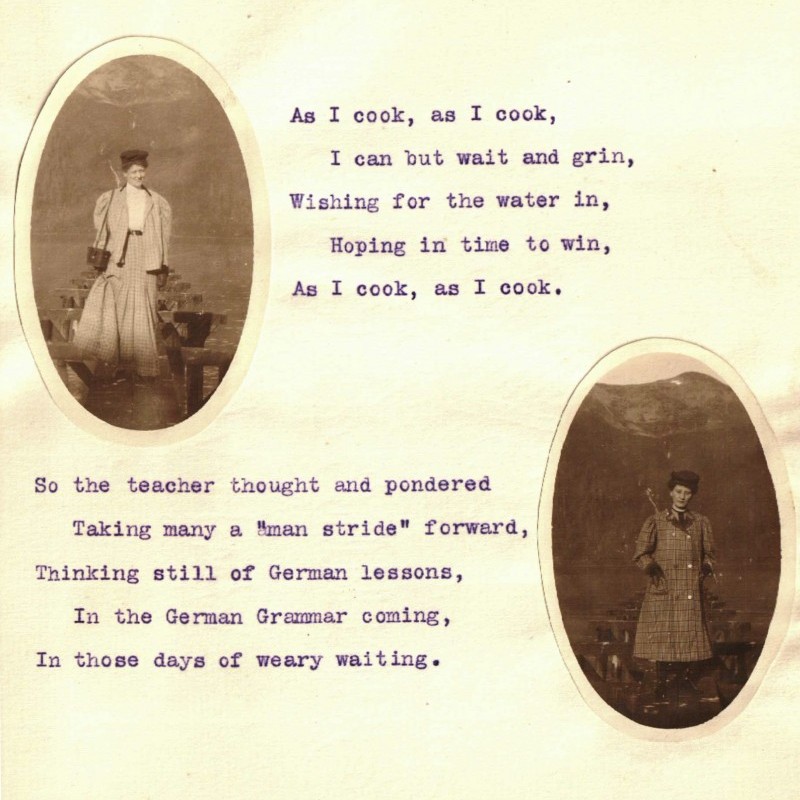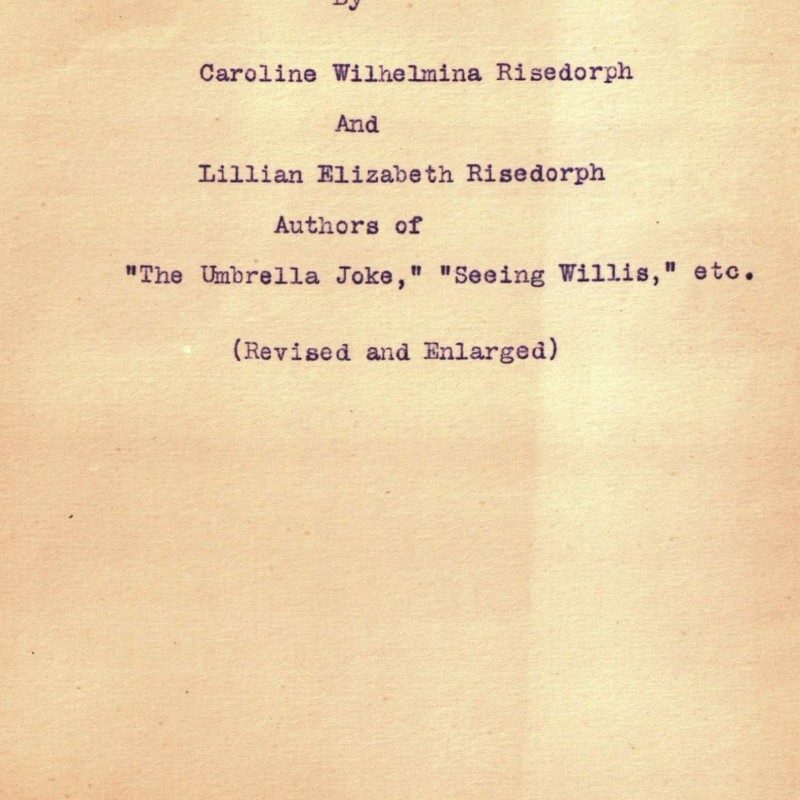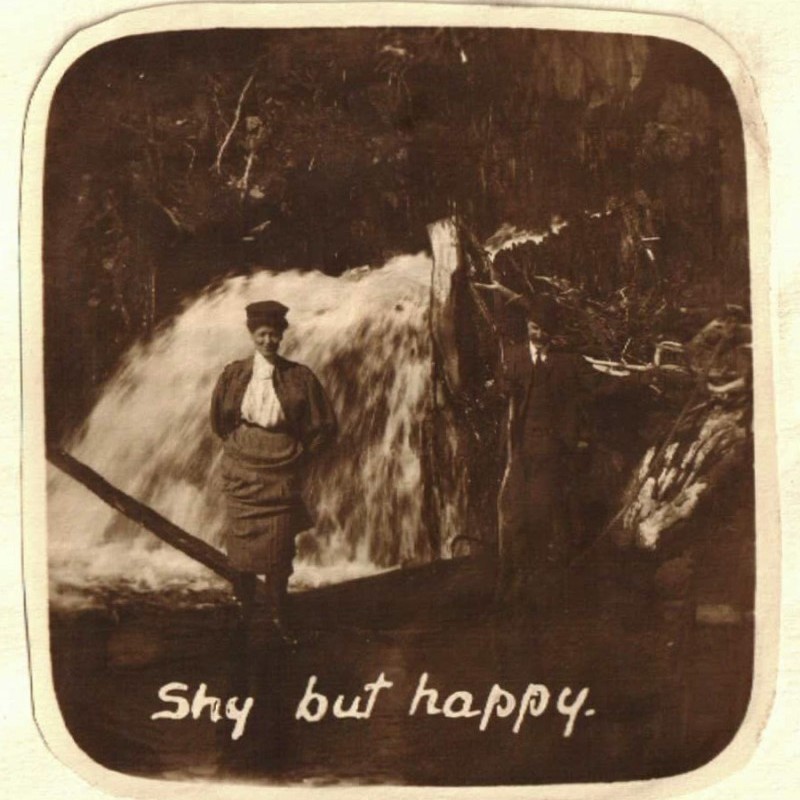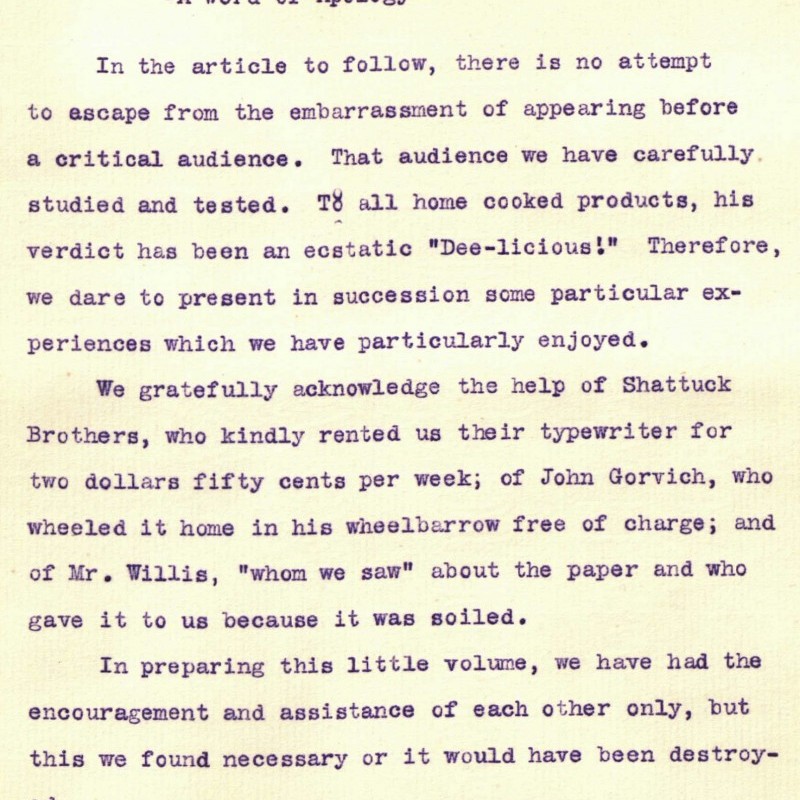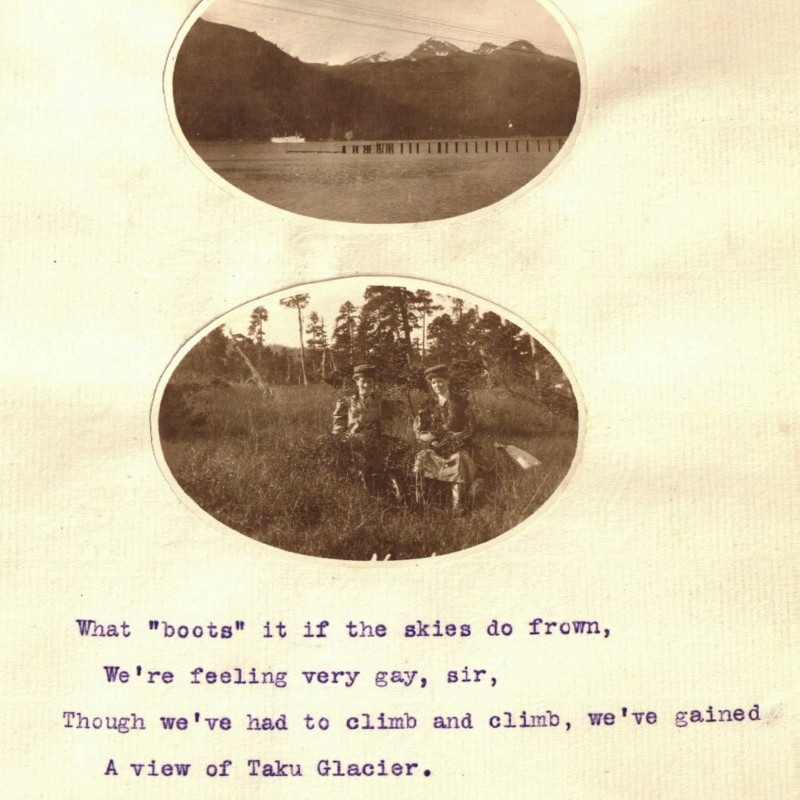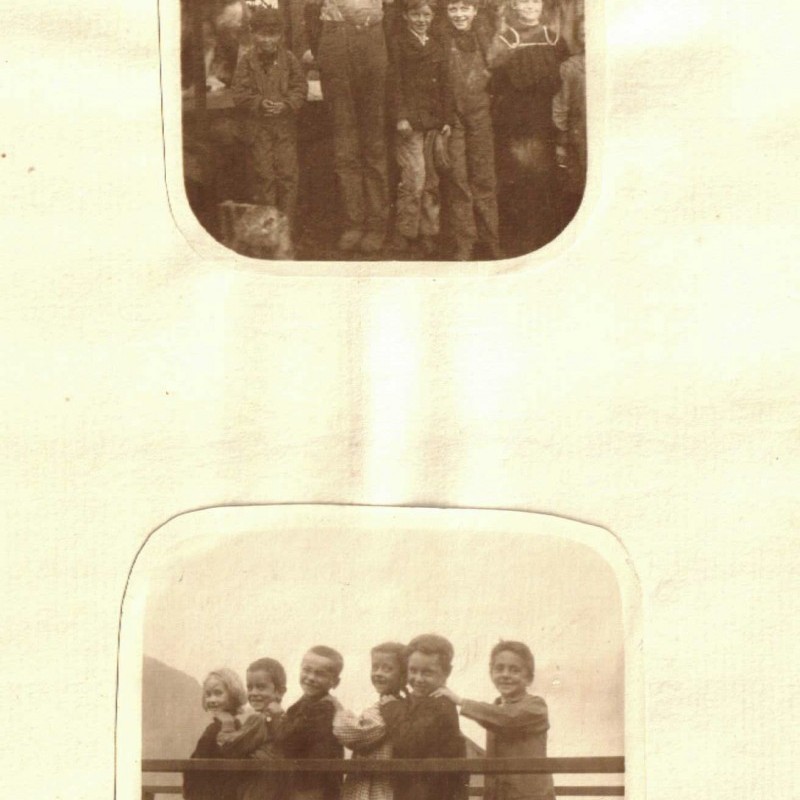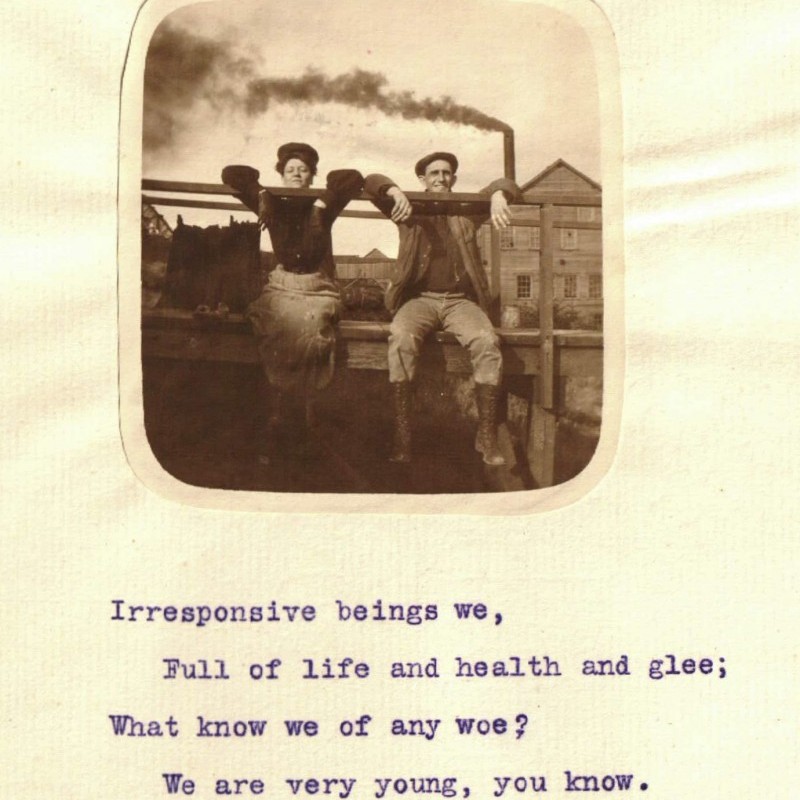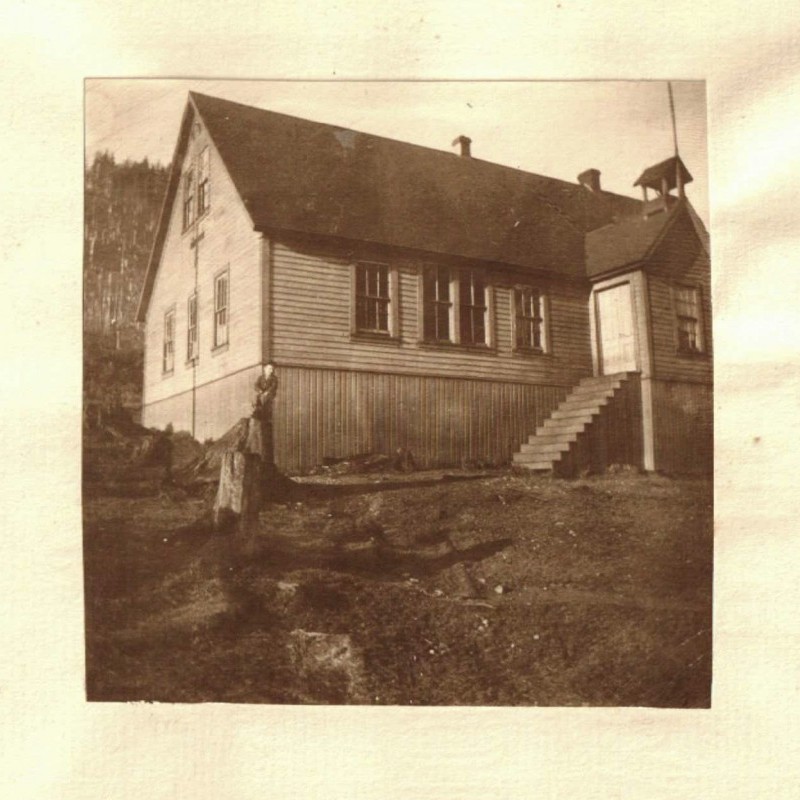 [Western Americana]. Risedorph, Caroline Wilhelmina and Lillian Elizabeth. EXPERIENCES IN ALASKA: As Told by the Cook and the Teacher [Cover Title - Original Photographic Typescript]. Treadwell, Alaska: The L.E.R. Publishing Co., 1906. Small 4to, custom booklet, beige card wraps around 24 leaves of bond typing paper bound into a maroon calf backstrip over spine via 2 brass rivets at left margin. Hand-watercolor title lettering to front. 15 sepia toned silver print snapshot photographs and approximately 2500 words of typed text to rectos only. Versos blank. Handmade holiday card and an additional silver print class photograph laid-in. Some light chipping, edge wear about wraps. Some toning to title page where ephemera laid-in at front. Otherwise internally bright, clean. Photographs well preserved. About very good overall.
An original account, illustrated by 15 original photographs, composed by sisters Caroline (b. 1877?) and Lillian (b. 1874) Risedorph of Seatle, of their experience working as a teacher and a cook, respectively, in the mining village of Treadwell, Alaska in the winter of 1906. Privately published in this vernacular style by the women, the inclusion of the original photographs and text of the introduction suggests to us a unique publication likely intended for circulation among close friends and family.
The narrative opens with the Risedorphs receiving word one had been awarded the position of teacher in Treadwell: "When the letter reached the sisters, bearing the announcement that one of them had been elected to teach the school at Treadwell, Alaska, and as the other, in an unthinking moment, had promised to act as cook in case of election, consternation and surprise on the part of both were marked [...]."
It continues on in a similarly eloquent and endearing fashion in 12 full pages of text to chronologically describe their journey, becoming settled, preparing the school (each lived in and worked in the school building), teaching and serving the students, etc., with particular focus on life on the frontier of Alaska. The text describes the grandeur of the natural scenery, the harsher realities and privations of life in Treadwell versus Seattle, and a visit into the gold mine.
"The teacher's past experience has been with blase Queen Anne children, of Seattle accustomed to refinement and even luxury in their homes, and although they were very interesting, it was a problem to keep them interested. These are completely absorbed in all things from the large bottle of library paste to the shirred garters on the teacher's arms."
The various ethnicities of the 18 children seem, in the minds of the narrators, to account for this positive, diverse atmosphere ("[...]three Italians, two Slavonians, four Scotch, and the remaining few Americans."), and the women appear particularly enamored by Spiro, a 6-year old Slovanian boy whose musings and questions seem an endless source of amusement.
A rich and well-executed unique primary source, with vernacular publication details ("to Mr. Willis whom 'we saw about the paper' and who gave it to us because it was soiled [...]") and an uncommon written, as well as visual, glimpse into womens experience, education, and the ethnic diversity in early 20th Century Alaskan gold mine settlements. Not found in OCLC.
$1250