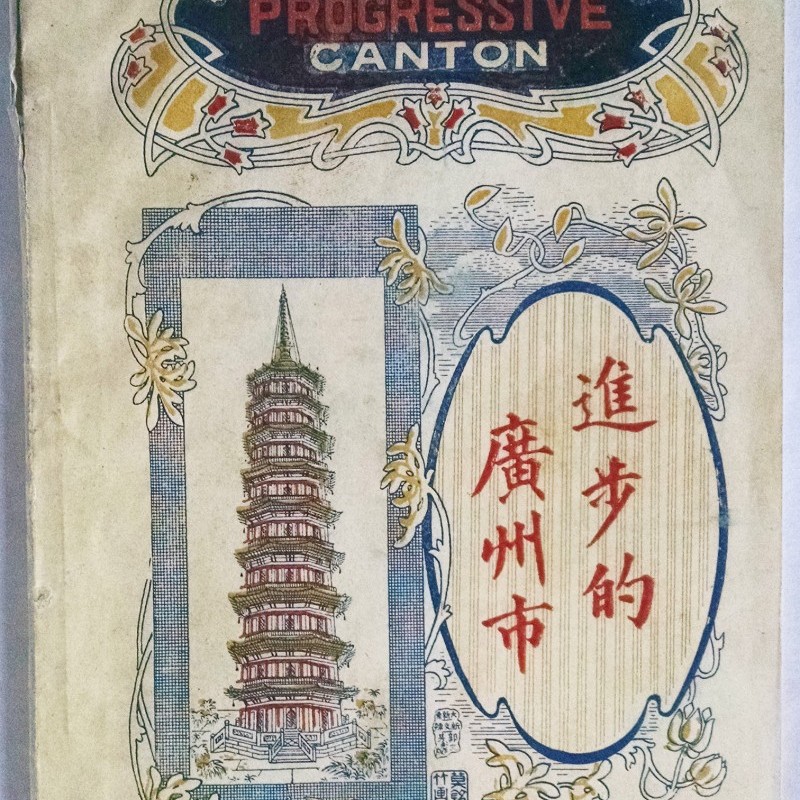 [China] [Architecture] [Propaganda]
Canton Municipality. Progressive Canton. [Guangzhou, China]: Canton Municipal Office, 1921. 8vo, [2] 35 pp. and [31] b/w photolithograph plates reproducing images of modern Canton municipal works (widening of streets for motor cars; the first "skyscraper"; new public gardens) and other urban design projects undertaken by the government of Sun Yat-Sen's new Republic of China, in orig. color wrpps., worn and splitting at spine with one loss to front rt corner, otherwise good.
This guide to Canton [Guangzhou] was produced in the months following Sun Yat-Sen's inauguration as the President of the self-proclaimed Republic of China on May 5, 1921. It provides a highly political portrait of the Republic's capital, aiming to acquaint English speakers with the history and significance of Canton while introducing modernizations undertaken by the government (only 9 years after the fall of the Qing dynasty).
The text is addressed to foreign diplomats and expats negotiating the volatile shifts in power during China's post-imperial era: it promotes the rational, European education of Canton's leaders, the meritocratic appointment of Sun Yat-Sen's son Sun Fo as mayor, popular support for the Republic, the state of the telephone, electric, and sewage systems, and the ambitious public works currently under construction.
The photographs show a metropolis in the midst of rapid modernization, emphasizing the destruction of the old city in favor of European-style city planning and the proliferation of Westernized architecture in municipal buildings and new residential districts.
Progressive Canton is a fascinating and scarce English-language guide to the political self-presentation of the Sun Yat-Sen government and the development of the temporary capital of the military government. It includes the full text of the city's Provisional Charter (December, 1920).
Rare, OCLC calls for 4 copies; 3 in North America, all in California.
SOLD