(Clandestine Press) (Women) Italian Women's Resistance Leaflets and Serials
Gruppi di difesa della donna, 1943-1946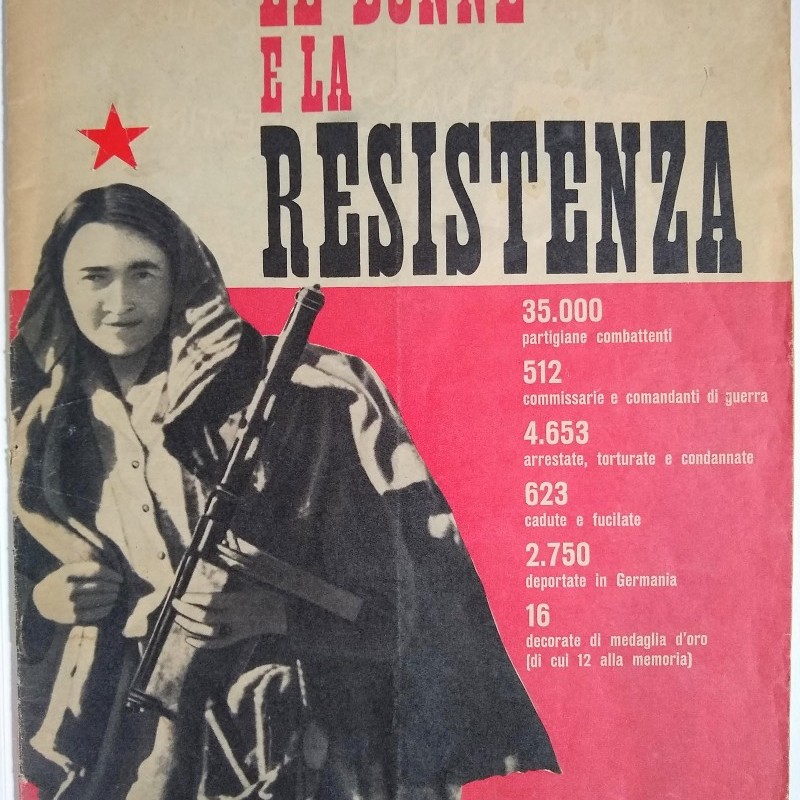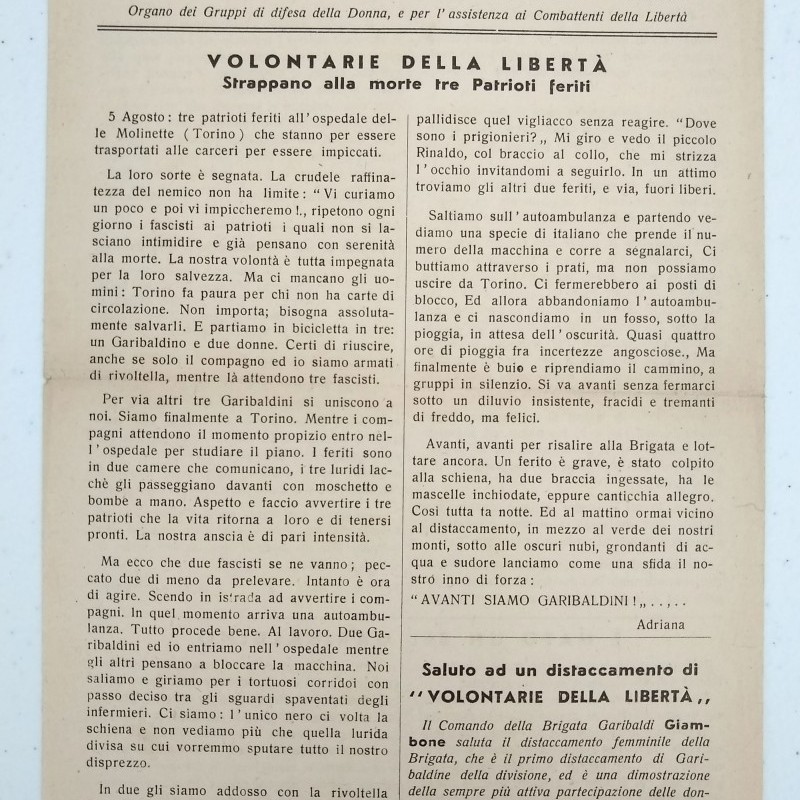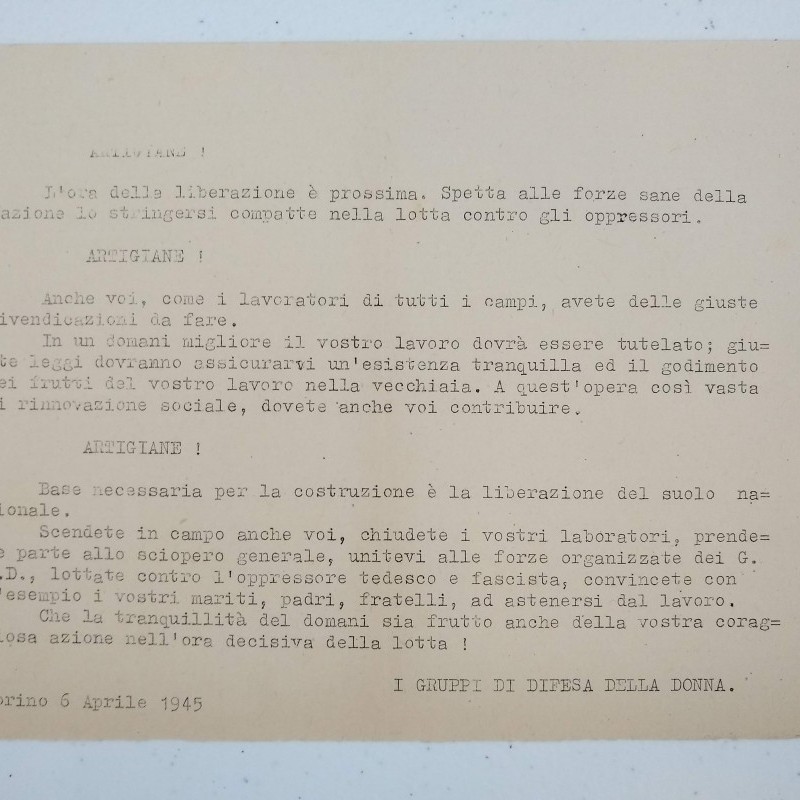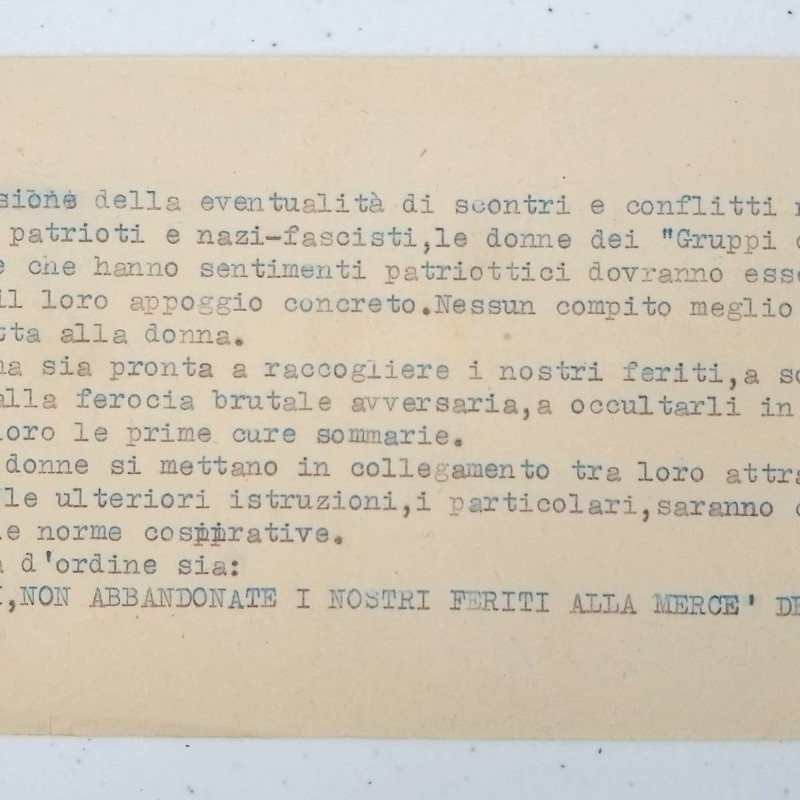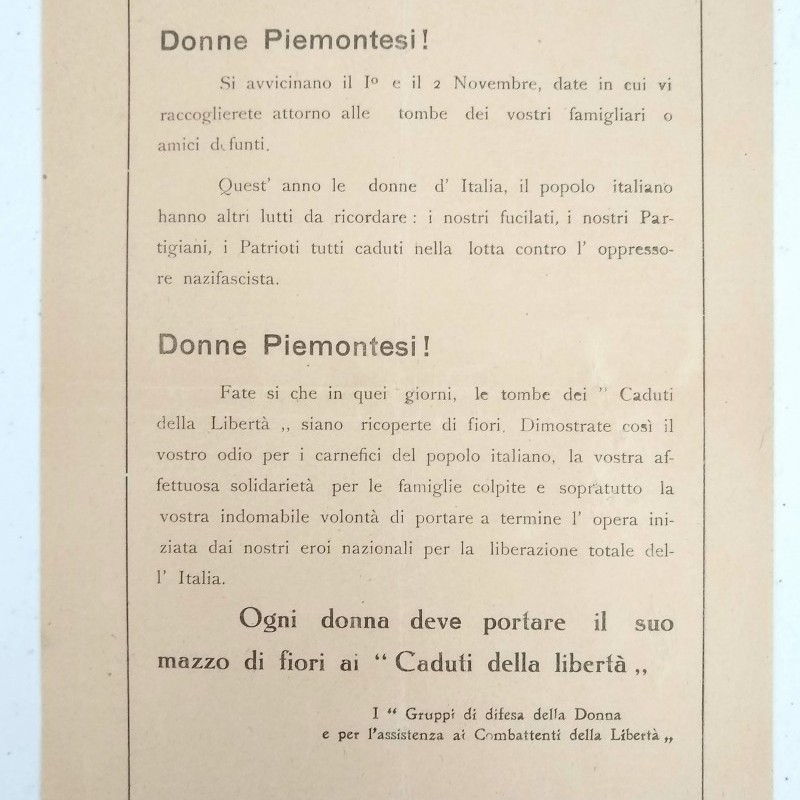 (Clandestine Press) (Women) Gruppi di difesa della donna e per l'assistenza ai combattenti della libertà. Three handbills and a clandestine issue of Noi Donne. [Turin?]: n.d., ca. 1944-45. Sizes vary, from 8-¾ x 6-½ in. to 4 x 9-⅛ in.; all sl. toned, one with chipped edges. Together with Le Donne e la resistenza: Un documentario Noi Donne da conservare, per non dimenticare. Rome: Noi Donne, n.d. [ca. 1946]. Large 4to, [48] pp.; profuse b/w illus. from photographs, newsprint toned with small dampstain affecting most pages, pages numbered 16-61; stapled illus. color wrapper with red star pasted to front cover, worn at corners and spine.
Rare examples from the clandestine Piedmont presses of the Italian women's resistance movement, Gruppi di defesa della Donna (Gddd). Led in Turin by Ada Gobetti, Gddd's partisans risked their lives to produce antifascist and feminist literature in the German-occupied Italian Social Republic. They collaborated with and supported the Corpo volontari della libertà (CVL) through mutual aid activities including propaganda, industrial sabotage, and first aid. Some joined the CVL's armed resistance, in the Brigate Garibaldi.
The present group includes calls to action against "nazi-fascisti" and a previously unidentified? example of the women's movement serial, Noi Donne, which originated in Paris in 1937 in the antifascist exile community, and was reborn during the Italian resistance as a clandestine paper allied with the Gddd. Regional editions varied widely; most groups did not have access to presses so they brought mimeograph machines to kitchens and women's shops, and printed during the night; this example probably issued by the Turin section, edited by Dina Ermini
After liberation, the Noi Donne editorial office was located in Rome under the auspices of the feminist organization Unione Donne Italiane. In the present group is the large format Noi Donne supplement Le Donne e la resistenza. The special edition tells the story of Italian women's participation in the resistance through texts and photographs solicited by the editors from the partigiane themselves.
Gddd documents and early issues of Noi Donne are virtually unknown outside of Italian archives. Scholars have noted that individual print runs might range from 500 to 10,000 copies, and that possession of an issue (let alone the dangers of printing) could lead to deportation, torture, or death.
Three Gddd flyers are included in the Library of Congress archive of wartime European underground publications. We are unable to confirm any physical copies of Noi Donne from the 1940s in North American institutional collections.
See Marisa Rodano. "Introduction." Noi Donne, 1944-1945: Ristampa. Rome: Editrice Cooperative Libera Stamp, 1978.
SOLD