Fourteen Italian Antifascist, Communist, and Revolutionary Socialist Party Leaflets
1943-1945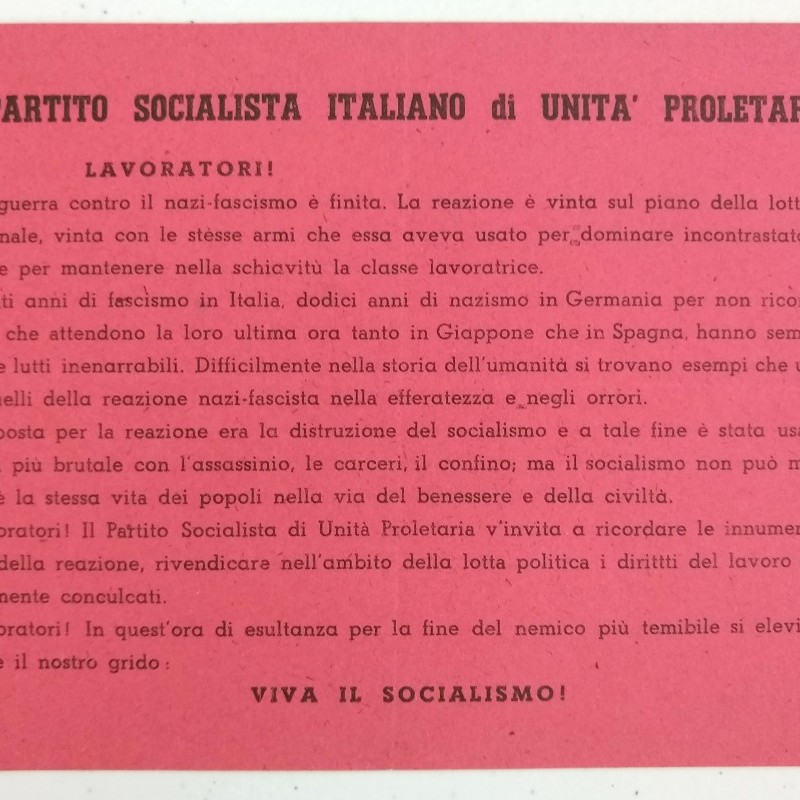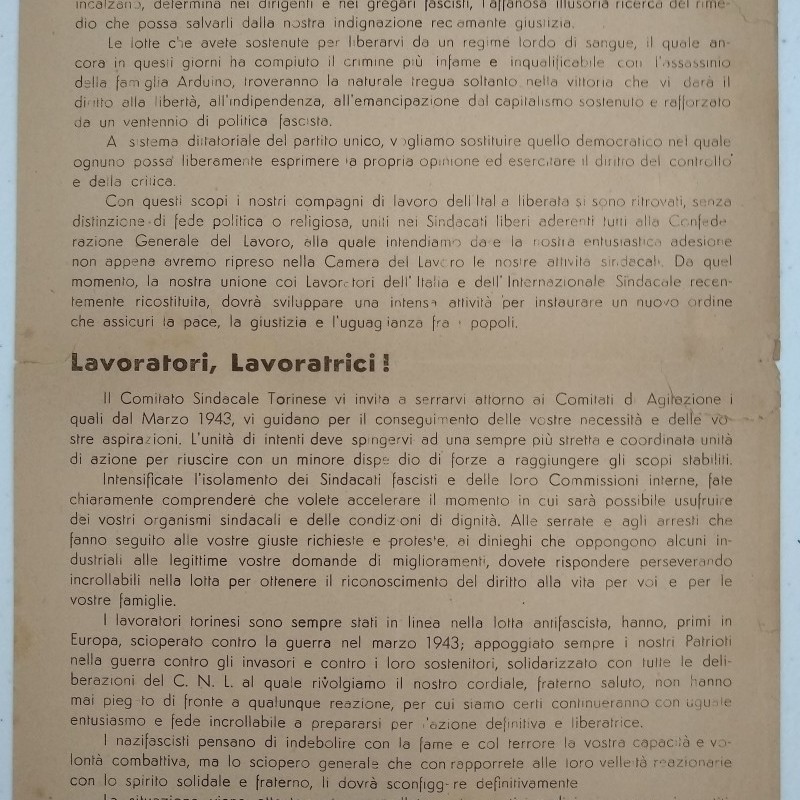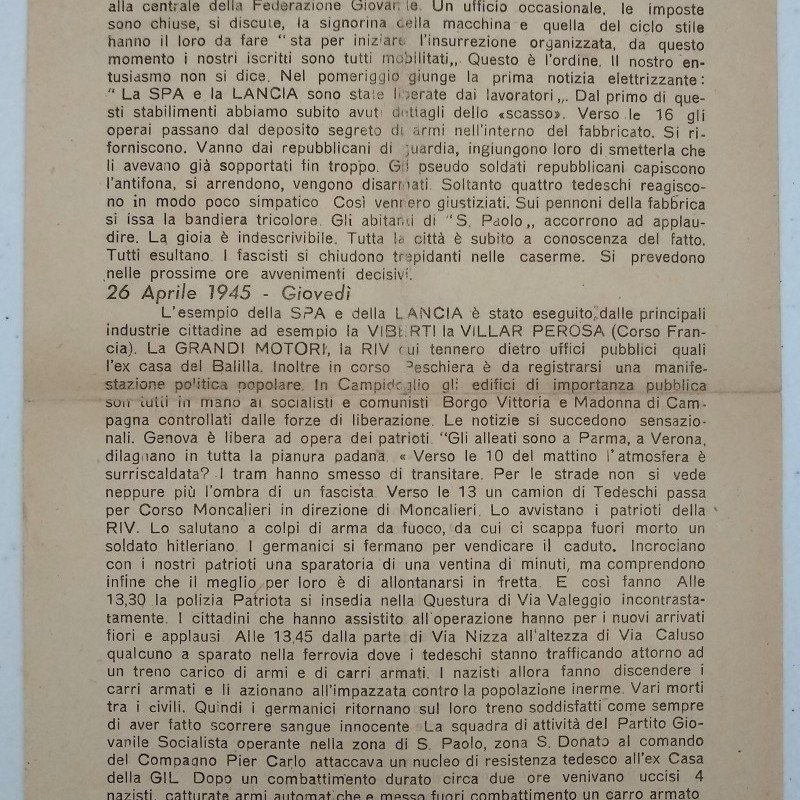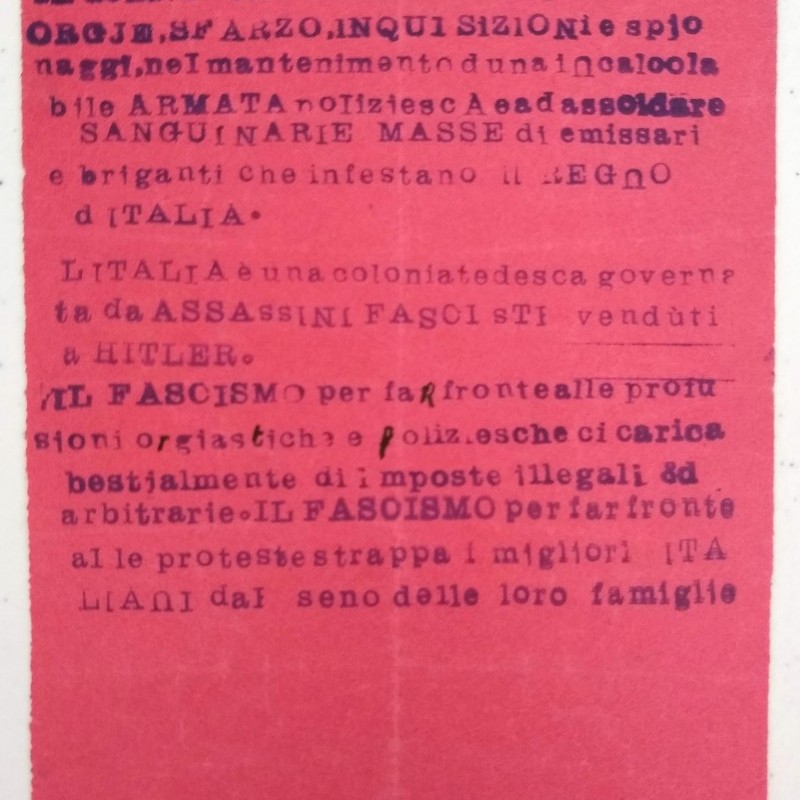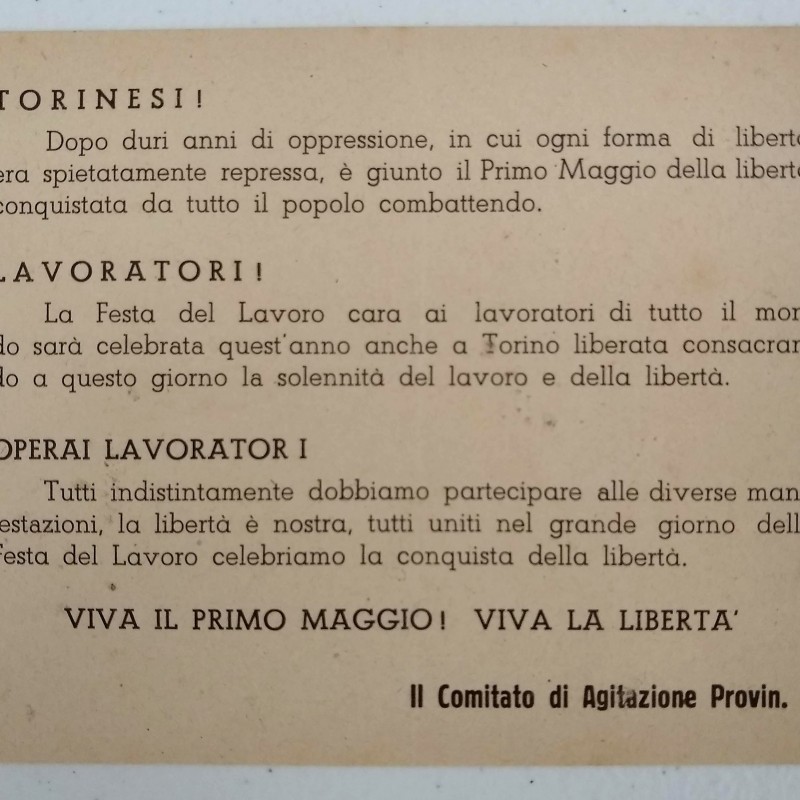 "Lavoratori Torinesi! L'ora dell'insurrezione popolare contro il nazifascismo e giunta ... Lo sciopero insurrezionale ad oltranza apra la via alla nostra liberazione! Viva il Socialismo!"
(Antifascism) (Socialism) Fourteen Italian Antifascist, Communist, and Revolutionary Socialist Party Leaflets, 1943-1945. Various sizes, most single-sided, four recto and verso, two on red papers, most good, with scattered fraying, creases, small chips, bent corners, and toning, one closed tear, one example much larger, creased with losses. Together with: Fronte Del Lavoro: Per un'Italia nuova del lavoratori. [3] pp. mimeograph party manifesto, dated September 2, 1943, sl. faded with small pencil annotations, possibly corrections; Lo Stato Moderno: Rivista di critica, politica, economica, e sociale. Anno 1, N. 1 (Luglio 1944). [Rome]: 1944. 8vo, 16 pp.; newsprint darkened; stapled wrapper, front with small stain and closed tear; and 3) Foglio Volante: Portato dalle Forze Aeree delle Nazioni Unite. No. 6. Np. Nd. ca. 1943. Single sheet of a French? Resistance aerial leaflet with solidarity messages for Italian workers from leaders of the trade union movement in France and Britain.
Leaflets calling for working-class action against Nazi-fascism in the German-occupied Italian Social Republic from communist, socialist, and revolutionary parties belonging to the National Liberation Committee coalition or the armed resistance movement: Partito Socialista Italiano di Unità Proletaria, Partito d'Azione, Il Fronte della Gioventù (part of the Italian Communist Party [PCI]), Fronte degli Intellettuali (PCI?), and Partito Repubblicano Italiano.
With the exception of Foglio Volante and Lo Stato, most of these examples were presumably published clandestinely in Turin and environs. At least two published in the days following liberation, either celebrating the first postwar Labor Day (May 1) or insisting on a new democratic Italian republic to represent the working class.
No OCLC holdings found. A few similar leaflets in the Library of Congress holdings. Foglio Volante held only at the BNF.
SOLD