Album of late 19th Century Albumen or Gelatin-Silver Prints of Gubbio and Perugia
ca. 1880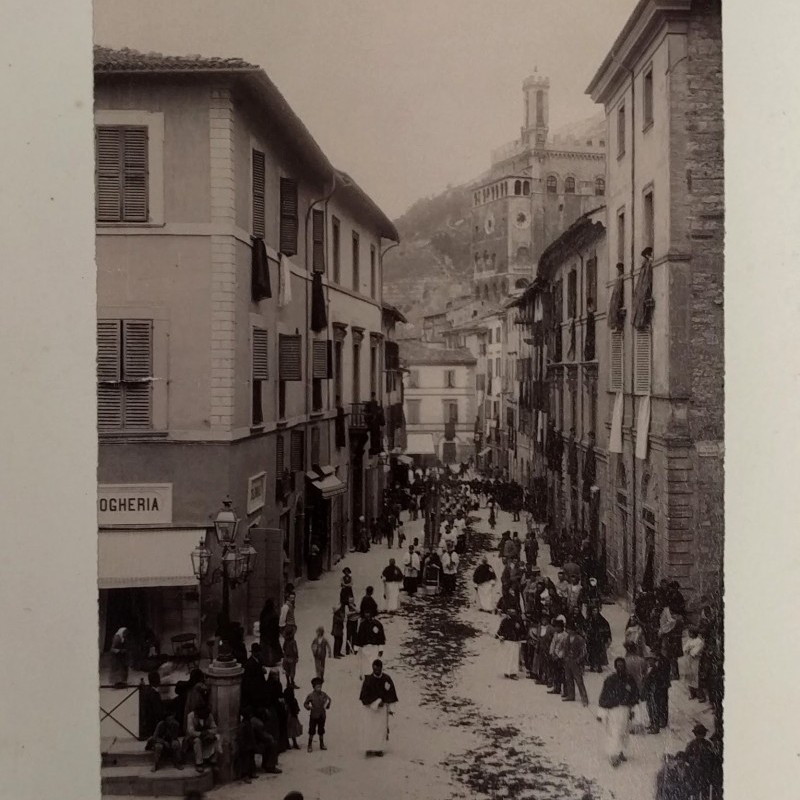 Album of late 19th Century Albumen or Gelatin-Silver Prints of Gubbio and Perugia. [Italy, ca. 1880].
Oblong 4to (8 3/8 x 12 in.) containing [12] heavy card leaves with 22 mounted prints: 13 of which approx. 7 x 9 in. and larger, the rest approx. 6 1/2 x 4 1/2 in.; professional views of artistic or architectural monuments (10), some signed in negative by [Fratelli] Alinari and [James] Anderson, together with amateur views (12); leaves sl. warped through center, a few prints a bit toned or faded but retaining contrast and detail, cloth with gilt title "Roma," boards worn and corners bumped, printed binder's ticket: "Encuadernacion, R. Dietsch, Moneda 877."
Curious photo album, titled "Roma" and bound in Santiago de Chile, but containing images almost entirely from Perugia (with the exception of a view of the Pantheon and a composite image of classical sculpture). The binder, Ricardo Dietsch, was known as "La Alemena," and was active in Santiago de Chile from at least 1894 until the mid-1920s.
The amateur photography is particularly striking, with many of the major sites of Gubbio, Italy visible in unexpected street scenes. These include city residents participating in the spring folk festival Corsa [or Festa] de Ceri, in which teams race through the city carrying heavy wooden statues of local patron saints. Still others depict busy street scenes; an arresting image of women kneeling in the snow; and soldiers and peasants as they lounge on the walls of the city's famous Roman theater or walk past its Romanesque palazzos and churches.
$275