How We are Defending the Health of Our Soldiers and Sailors: 309 Houses of Shame Closed
California State Law Enforcement and Protective League; Committee for the Redlight Abatement Bill; Hichborn, Franklin, et al., 1914-1918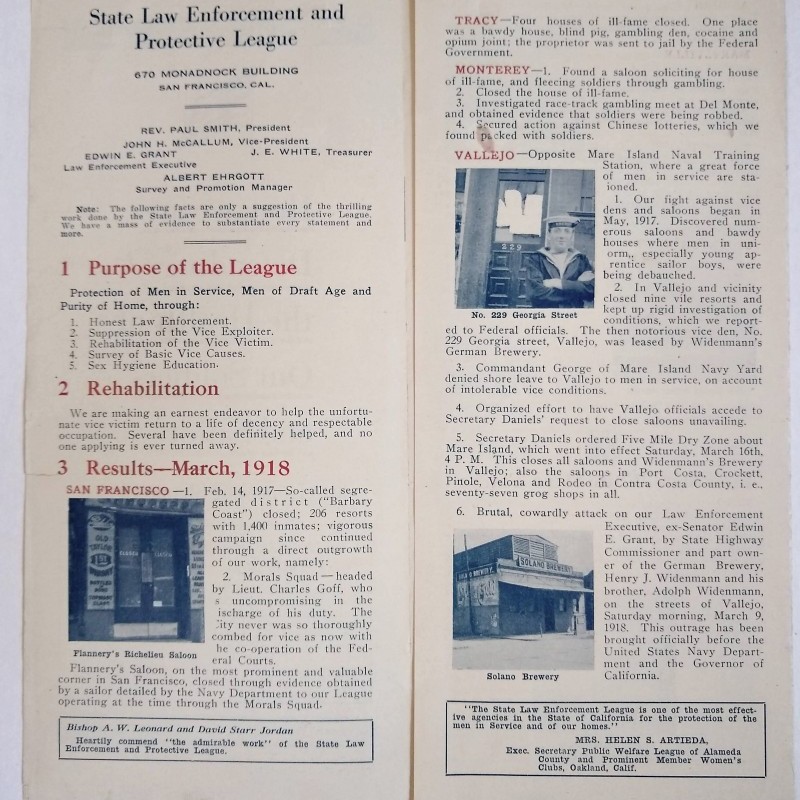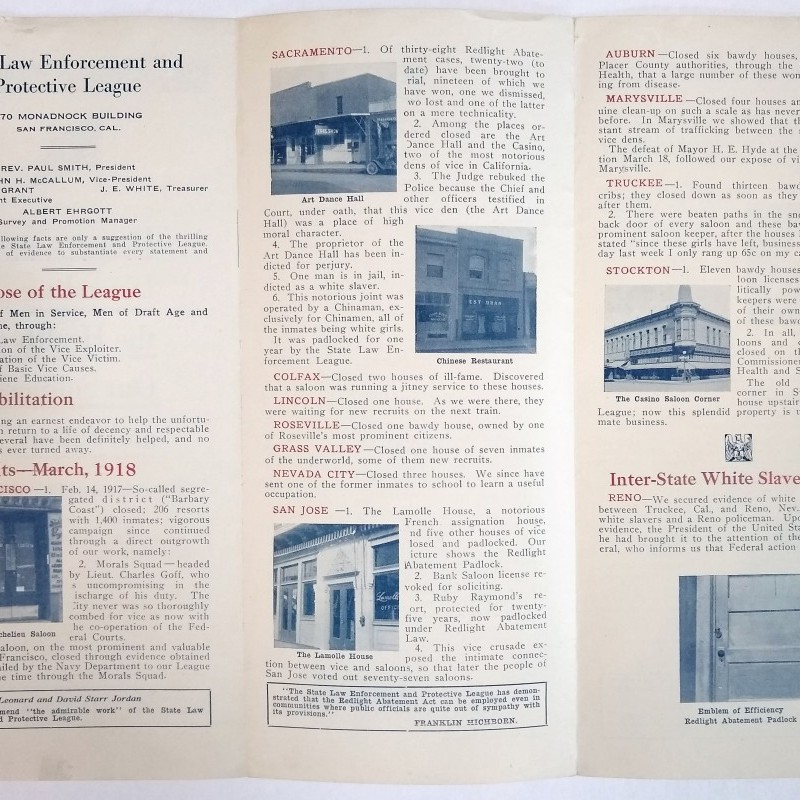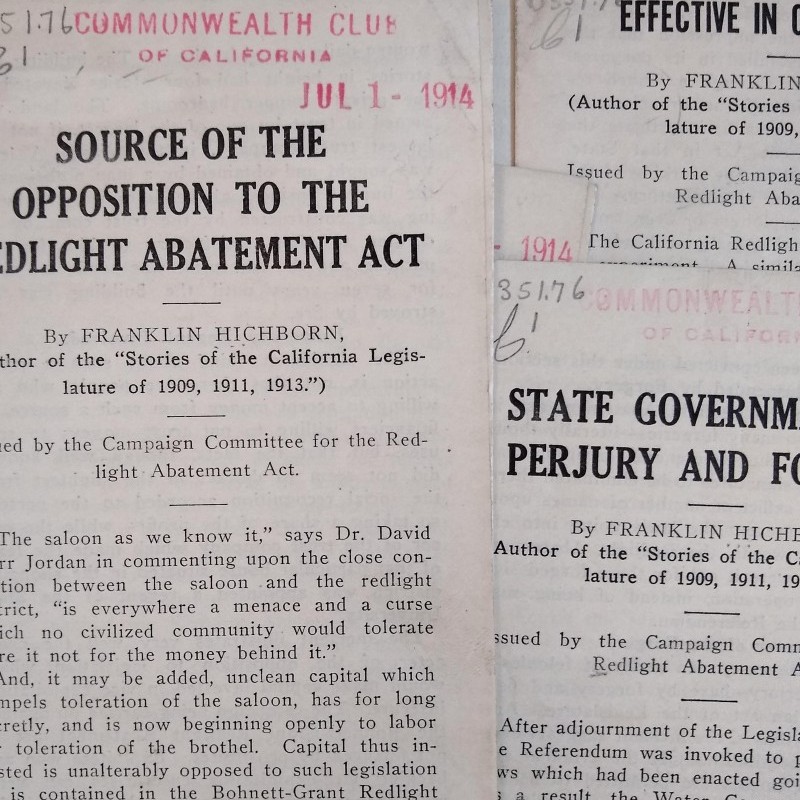 (Antiprostitution - California - Socialism) Hichborn, Franklin and L.D. Bohnett. Five Informational Leaflets: Redlight Abatement Acts Prove Effective in Other States; Segregation Does Not Segregate and Regulation Does Not Regulate; Source of the Opposition to the Redlight Abatement Act; State Government by Perjury and Forgery; The California Redlight Abatement Law: It's Provisions and Purpose. San Francisco, CA: Campaign Committee for the Redlight Abatement Bill, 1914. Five leaflets, each approx. 6-⅜ in. x 3-⅜ in., 4, 6, 6, 8, and 8 pp. Together with Franklin Hichborn, Answers to Arguments … Against the Redlight Abatement Act, [California]: n.p., [1914] 8 pp. Most with small ex-libris stamp from the California Commonwealth Club and penciled shelf labels or scattered other marks or edgewear, a couple of small closed tears. Good.
Propagandist description of the controversy arising from California's Red Light Abatement Act, a.k.a. the Bohnett-Grant Act. The Act was signed into law in April, 1913, but was contested by a statewide voter referendum held in November 1914, where it was affirmed. Like other Red Light Abatement laws, it ended segregated "redlight districts" and transformed public nuisance law to allow the government to take action against landlords whose property was used for brothels or "lewdness." Importantly it also allowed for any resident citizen of the state to "maintain an action" against a specific property, empowering communities to act directly, without involving law enforcement.
Many high-profile supporters of the Act were Reformists and socialists. The leaflets here are mostly written by journalist Franklin Hichborn, an associate of prominent reformer John Randolph Haynes and his suffragist wife, Doris Haynes. Hichborn takes aim directly at prostitution's profiteers and the link between capital and sex. One pull quote, from a municipal judge in Portland, OR, sounds almost contemporary in its appeal to move away from "criminal prosecutions, because [they] are usually directed at the pawn in the system while the real culprit, the man who knowingly permitted the use of his property for immoral purposes … is allowed to go unwhipped."
Together with:
(Antiprostitution - California - WWI) State Law Enforcement and Protective League. How We are Defending the Health of Our Soldiers and Sailors: 309 Houses of Shame Closed. San Francisco: State Law Enforcement and Protective League, 1918. Trifold pamphlet [6] pp.; illus. from photos, two small closed tears, edges worn, one small repair?
Exemplary and rare document of the overheated rhetoric in the fight against prostitution and its special urgency during wartime. The League's purpose is declared to be the protection of men in service and purity of home, primarily through "suppression of the vice exploiter" and "rehabilitation of the vice victim." The pamphlet is primarily a report on legal actions brought under the Redlight Abatement Act. Seven recently closed "dens of vice" in the San Francisco Bay area are illustrated next to the descriptions of hundreds of others, and evidence of "white slave" trafficking. Not found in OCLC.
$550