Report of the Commission for the Investigation of the White Slave Traffic, So Called
Commonwealth of Massachusetts; Commission for Investigation of White Slave Traffic, 1914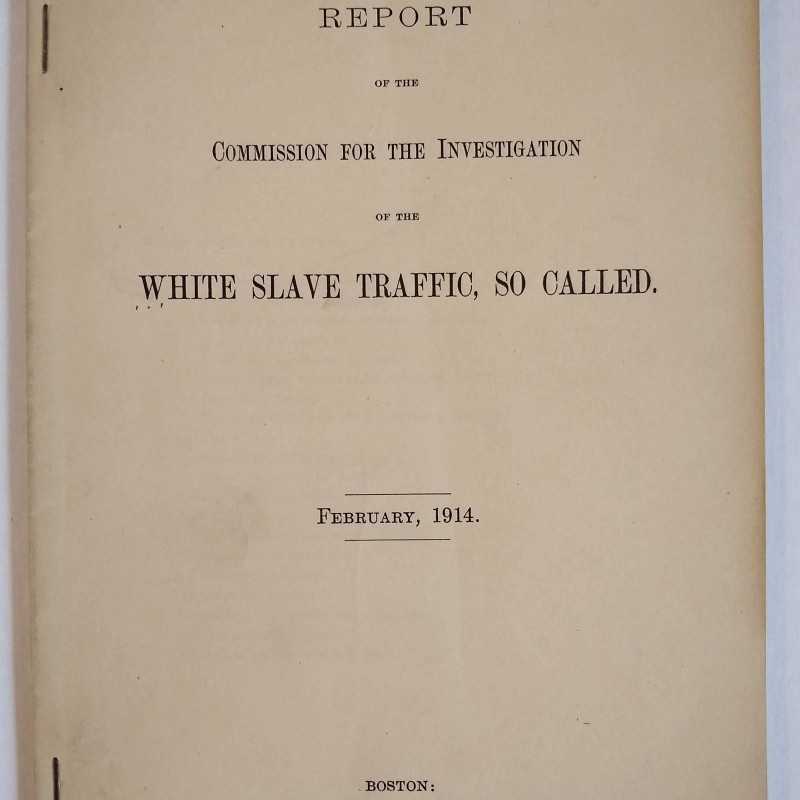 (White Slave Traffic) Commonwealth of Massachusetts. Commission for Investigation of White Slave Traffic. House - No. 2281: Report of the Commission for the Investigation of the White Slave Traffic, So Called. Boston: Wright & Potter, 1914. 8vo, 86 pp.; numerous charts and tables; stapled wrapper with ex-library stamp and penciled shelf label, otherwise very good.
Report on extensive investigation "to determine, so far as is possible, by what means and to what extent women and girls are induced or compelled by others to lead an immoral life …" "to endeavor to devise plans for preventing the evils it finds …" and a draft of bills "as may be necessary to carry its recommendations into effects."
At the center of the report is a significant amount of sociological research conducted by the commission during interviews with known prostitutes and johns. While refuting entirely the "vague rumors" and myths of "white slavery," fascinating details emerge about the early life of prostitutes in Massachusetts, and the commercial and penal systems they entered when they began their "immoral life." With proposals for laws to address the "social evils" of dance halls, street solicitation, hotels, "call houses," sexually transmitted disease, etc.
Rare in physical format.
$125